---
OUR PRODUCTS:
---
FM 77 at work:
Sawing of thin material
Cutting of jewelry or watch pieces out of thick material
Sawing into steel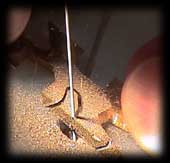 Sawing of jewelry pieces at a given angle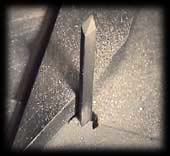 Filing on the filing table with an excellent view onto the work piece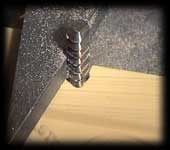 The use of a nibbling broach to cut out a form
Sawing and filing machines FM 77 are widely used to saw, file, nibble and polish gold, silver, steel, titanium, all kinds of metals, plastics and wood. Materials up to 20 mm thick can be worked on easily. For over thirty years these machines have been of great service to many goldsmiths, jewelry-, watch and clock makers throughout the world. Additionally, these machines are used in other industries like electronical and optical engineering and research.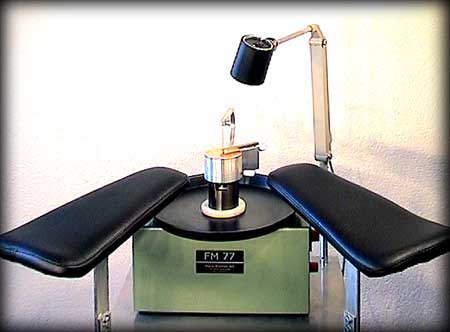 FM 77-2c
The model FM 77-2c features a base and arm rests which allow to work ergonomically optimized. The machine runs very smoothly and without any vibrations. The cutting speed can be electronically adjusted. Base: 400 x 500 mm, weight: 30 kg approx.

FM 77-2a

The model FM 77-2a can be put onto any solid work bench and is especially useful for sawing and filing, e.g. for jewelers and goldsmiths. Base: 195 x 360 mm, weight: 14 kg approx.

FM 77-1

The model FM 77 1 offers a stronger engine, especially suitable for industrial use. Base: 320 x 360 mm, weight: 30 kg approx.

FM 77-MEXI

For those who will not use a sawing and filing machine permanently, we offer the affordable model FM 77-MEXI. Base: 225 x 300 mm, weight: 10 kg approx.



---


Technical product information:

Power requirements: 220 V or 110 V, 50 or 60 Hz Power consumption: 125 Watt (FM 77-1 190 Watt) Electronically adjustable stroke: 50-1000 strokes/min. Stroke height: 20 mm fixOn request with foot switch

---

For these machines we offer a wide choice of
accessories and tools.